May 19th, 2020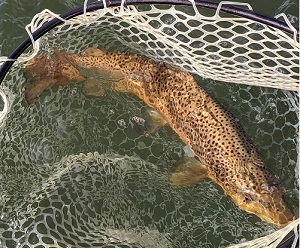 Missouri River Below Holter Dam 4,7100 CFS

Water Temp 50.0 F
Today at 3 PM, Governor Bullock hosted a press conference where he announced moving to Phase II of Montana's reopening plan on June 1st. Embarking on Phase II of the reopening plan includes lifting the 14-day out-of-state travel quarantine on June 1st as well. So to put it simply all out of state anglers can come to Montana and fish with us without quarantine starting June 1st

It will be great to get things opened up and going again and we are looking forward to seeing everyone again. Be safe out there and go fishing.
Garry, Joan and Nick
The MO is fishing good, Streamers are working well olive colors and Nick's Perch have been best. Nymphing has been steady pink stuff has been working best. We are also starting to see a lot of bugs, We have Baetis, Caddis and March Browns hacthes going on.
The fish have been starting to do there thing at Gates of the Mountains and we have had reports of fish at York Bridge and North End of Canyon Ferry Lake.
If you would like to get our fishing reports and all the new stuff going on with Montana Fly Goods and Big Sky Expeditons, just join our e-mail list at the top or bottom of the page, or simply give us a call at (406) 442-2630.
Dries that are working Best are:
Purple ParaWulff Size 16 & 18

Film Critic BWO Size 16 & 16
May Day BWO Size 16 & 18
Ninch's Handman Size 16

Parachute Ext. Body Baetis Size 16 & 18
Nymen's DOA Cripple Baetis Size 16 & 18
Corn-Fed Caddis Size 14 & 16
Stocking Foot Caddis Size 14 & 16
Nymphs & Streamers that are working Best are:
Pink Mossasin Size 14 & 16
New Jigged Mossasin A-Pink Size 14 & 16
Jigged Soft Spot Size 14 & 16
Little Pink Lighting Bug Size 16
Ninch's Pill Popper Size 16 & 18
Fire Bead Ray Charles Size 14 & 16
Hot Bead Sow Bug Size 14
Zebra Midge Size 16 & 18

Olive Thin Mint Size 8
Nick's MoJo Minnow Yellow Perch Size 4 & 8
Coffey's CH Sparkle Minnow Size 8
Keller's She Demon Size 6
Miller-Time Streamer Size 6